How sad that such priceless treasures have to be sacrificed for the sake of development.

I am reblogging this in the hope that my tiny voice can add to the cause of preserving priceless historical and cultural treasures. Let us be more mindful of such insensitive actions.
Earth First! Newswire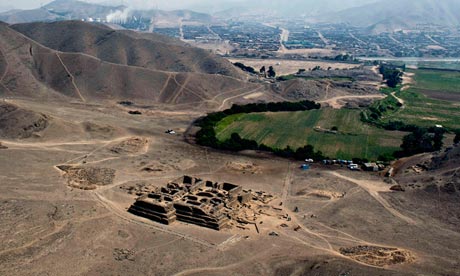 El Paraiso, the archaeological site some 40km north of Lima where the 20ft pyramid was torn down. Photograph: Ernesto Benavides/AFP/Getty Images
Real estate developers using heavy machinery tore down a 20ft (6m) tall pyramid at one of Peru's oldest archaeological sites, cultural officials have said.
Rafael Varon, deputy minister of cultural patrimony, told reporters on Wednesday that the destruction occurred over the weekend at the ruins of El Paraiso, a few miles north of Peru's capital, Lima.
He said his agency has lodged criminal complaints against two companies for the damage – identified as Alisol and Provelanz – and has moved to seize the equipment used. People who answered the telephone at both companies said no one was available to comment.
Peru's tourism ministry says El Paraiso was built some 4,000 years ago and was a religious and administrative centre, long before the rise of the Inca…
View original post 135 more words